Blogging doesn't need any approval for publication many people utilize blogging platforms to write about various topics. In the beginning, these platforms were a space for making personal diary style entries, but today businesses have begun using them to start a blog and market their products/services. To create and publish effective blogs, businesses can rely on an outsourcing SEO company that provides content writing services.
Blogging Platforms
Let's take a look at some popular blogging platforms.
1) WIX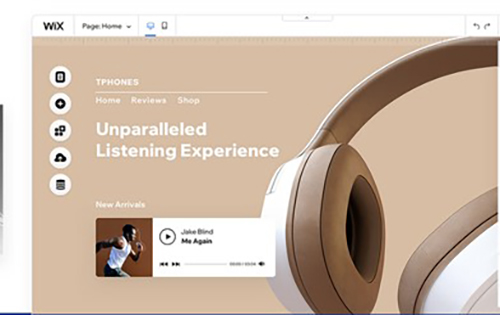 Wix is a free online website design platform that supports blogs. Today, almost 190 countries with 150 million people use this software. It is the best option for beginners or people with less technical knowledge. The aim of the creators of WIX is to empower people who want to create their own website with zero technical and coding knowledge, and design skills. It has a drag and drops element that allows you to manipulate text, images, videos, apps and so on. It has both paid as well as free plans. The features of the free version include:
Up to 500MB storage and bandwidth
Customer friendly approach
Pros:
Can view the outcome of your blog before clicking 'publish' button
Can made changes on your page
Easy to handle
Over 800 in-build templates for blogging
Embedded with stock photos and videos
Can write and edit in mobile phones as well
Cons:
Wix branding and ads on your website
No monetization
Limited blogging function
No changes can made in templates
Lack of customization options
Limited number of images and text
2)  Squarespace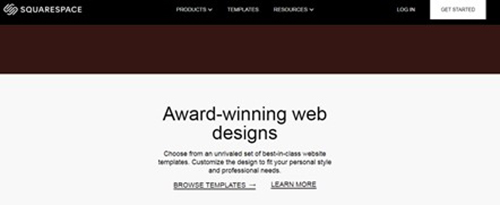 Squarespace is ideal for visual based business like photographers, designers and artists. It allows businesses to create blogging sites with high perfection even without hiring a graphic designer. However, the site builders have to pay a small amount on a monthly basis. It offers more freedom for customization than WIX but less than WordPress. It is easier to handle than WordPress.
Squarespace has a set of elegant templates which gives a beautiful face to your blog. Another advantage is that the users can control the color palette as well as layouts.
The features of Squarespace include:
Free blogging templates
Build-in post scheduler
In-depth analytics
SEO and social media tools
Mobile app
Email marketing tools
Integrated with Getty images, Unsplash and Google AMP
Pros:
Highly responsive 24*7 customer service system
No maintenance require
All add-ons and third party extensions are in-build
Easy e-commerce functionality
Over 150 layouts with mobile friendly and fully customizable.
Designer friendly fonts and stickers.
You can connect to other social media platforms after posting the content on it.
In-built analytics tool for analyzing incoming traffic to the website and also their interaction with the content.
Cons:
Limited functionality
Lack features like auto saving
Limited features and functionality
3)  Blogger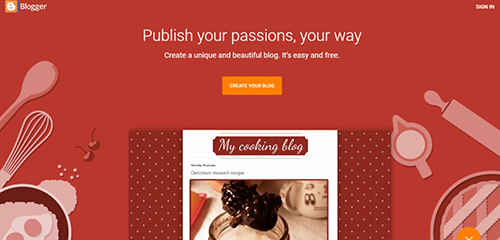 Owned by Google, this is a great option for people who have flair for writing and want to take up blogging as a hobby. It offers the same level of dependability and navigation as Chrome and Gmail. It is free software where you can include your own sub-domain. You can use a custom domain name when setting up your blog on Blogger, including as a subdomain of your website.
Though it has limitations for business purposes, it is an ideal option for personal use.
It takes only very little time to set up your account. Google takes care of hosting, storing your files, or your site's speed.
The features of Blogger include:
Images can store in Google photos
Has integrated Ad campaigns
Has simple and easy text editor
Has free SSL certification and free domain mapping
Integrated with Google
You can view your blog presentation before posting.
It doesn't have vendor ads.
Multiple options for customizing blog
Has a number of fonts
Can upload pictures and videos
Can add HTML code for greater customization
Can design your own templates
Can integrate with Google analytics
Pros:
Free
Has a monetization option
Create and customize easily
Only need a Google account for setting up a blog
Can be optimized with Adsense
Cons:
You don't own your content as Google owns Blogger
Not as user friendly as other options
Has limited options for customization
Outdated interface
Less content management features
Can't install plugins
Can't change the default settings
Can't change the display of the content
4)  Weebly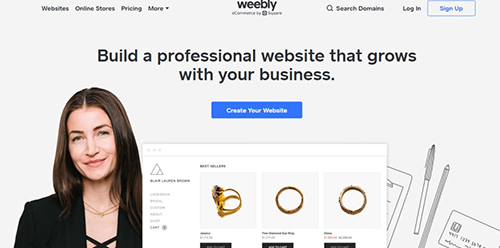 It is another popular option for blogging platforms. It is a really nice option for people who want to work with a free website builder. This user friendly platform has features like drag and drops similar to WIX. It is a perfect option for a person who wants everything under one umbrella as it has building tools, templates and hosting.
Weebly ensures easy handling of e-commerce blogs. Through this blogging platform, people have the option to sell items physically and digitally. However, the free version does not support monetization.
The features of Weebly include:
Free SSL security
500MB storage capacity
Chat and e-mail support
Community forum
Pros:
Can create complex layouts
Completely free for a free version
No charges for domain or hosting for a free version
Easy to handle
Can optimize in devices like mobile
More features and customization options than WIX
Can include more sub-levels for navigation menus. Thus, can arrange larger content in a well-organized manner.
Can change themes easily
Has e-commerce options
Has lots of themes that can edit with page builder
Cons:
The URL may have Weebly branding
Weebly ads on your site
Limited customization options compared to WordPress
Has more basic functionalities
Can't access source code
The premier plan is costlier than WordPress.
5)  Tumblr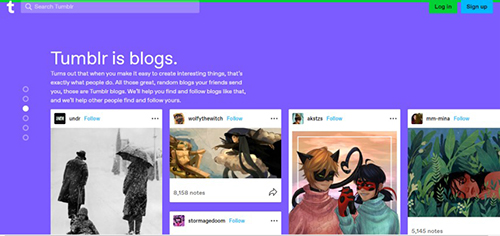 This micro-blogging site is a blend of blog and social media channels with in-built tools like sharing, reblogging and following. Tumblr currently hosts 476 million blogs. Tumblr has been purchased by WordPress owned company Automatic.
As it has the essence of the social media channels, this platform offers interesting ways to share the content, making it popular among the younger generation. It has the option for following people as well as reblogging the content like sharing on Facebook and retweeting on Twitter. It acts as a bridge between conventional blogging and social media platforms.
The platform describes itself as the place where you can get everything you need. It is a great choice for people who want to produce relatively quick and short content without any kind of setback. However, it is not ideal for people who want to own a blogging site for themselves.
This platform is also not as e-commerce friendly as Weebly. At the same time, you can use this platform for personal purposes completely free.
Pros:
Can add multiple pages, sidebar, social media sharing button, comment section and so on.
Has hundreds of free as well as premium themes
A vibrant place to exhibit creativity
No payments for posts
All features are free except for a few
Offers a number of ways including Google Adsense for generating money
Can create and publish photos, GIFs, links, chat dialogue boxes, audio-video files and so forth.
No word restrictions
Cons:
Has no control over changes
Only get access to certain features only if you turn to 'Subscriber content'
People who reblog your content have the option to edit it in their own way.
Limit options for customization
There are certain limitations like a number in per day post.
Can only upload videos under 100MB in MP4 format
Can only track about 20 tracks at a time
6)  WordPress
WordPress is considered the 'King' of blogging platforms. It is a simple platform for creating blogs and websites. About 43% of the total websites are powered by WordPress. It has an open-source content management system. The main advantage of WordPress is that anyone can modify WordPress software for free. Also, anyone can create a website on this platform even if the person has no technical knowledge.
Initially, it started as a platform for creating blogs. However, later it updated the core code and became an ecosystem for a large number of plugins and themes.
It is also a popular option for creating e-commerce platforms. With WordPress, people can create business websites, e-commerce stores, blogs, portfolios, resumes, forums and so on.
Pros:
Easy handling
Unlimited options for pages, posts and so on
Flexibility in post scheduling
Can restore deleted pages
Can add additional website editor easily
Managed website security system
Updated core code and plugins
Automatic backups
Cons:
Need a lot of plugins for accessing additional features
Had to make payments for accessing some features and plugins
Frequently updating in themes and plugins
Page speeds are often slow
Low SEO ranking
Frequently outdating plugins
Limited SEO optimization options
High chance for hacking and spamming
Security plugins are not enough to protect the website
There are two versions of WordPress:  WordPress.com and WordPress.org.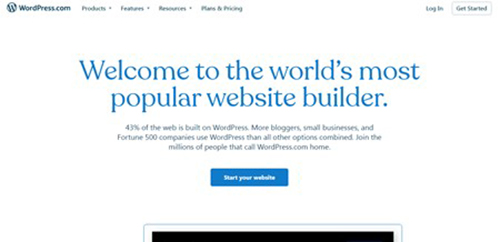 The above is the first version of WordPress, which is suitable for people who want to make blogging a hobby and don't attach importance to monetization.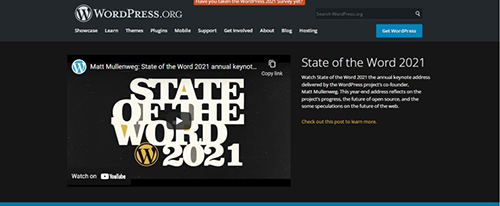 WordPress.org is a self-hosted version of WordPress. You have to find a host and do backups and maintenance on your own.
Here are the key differences between WordPress.com and WordPress.org:
| | |
| --- | --- |
| WordPress.com | WordPress.org |
| Hosted version | Self-hosted version |
| Limited support to themes | Full support to themes |
| Plugins are not allowed | All plugins are allowed |
| Free to use | Had to pay monthly basis for getting access to certain features |
| No option for customization | Can customize according to the idea of users |
| Limited or no monetization options | Have options for monetization |
| Had to make payments or remove WordPress branding from the domain | Can customize domain accordingly without using WordPress branding |
| Limited SEO features | Incorporated SEO features |
| Had limitations in analytics | Had powerful analytics |
| No e-commerce option | Can set up an e-commerce store |
| No maintenance available | Had maintenance option |
Blogging platforms are favorite spot on the internet for those with a flair for writing. Blogging platforms allow people to exhibit their writing skills while promoting their business. In fact, many business firms are marking their presence in online blogging platforms, especially since the outbreak of the coronavirus pandemic. These platforms now come with improved features to serve e-commerce needs. Working with an experienced outsourcing SEO service provider is the ideal option to create top quality content to promote your products/services on blogging platforms.