To stay competitive, keyword research is becoming ever more crucial for organizations. It's time to get ready and keep up with the latest keyword research trends, considering the release of new SEO rules and the dynamic nature of the internet. Due to this, you must make sure that your website is optimized with the assistance of a search engine optimization company, and that your content is as relevant as possible.
Keeping up with the New SEO Guidelines and New Keyword Research Trends
Businesses find it difficult to stay on top of the most recent trends as SEO requirements are constantly changing and evolving. Content marketing has been severely impacted by a number of new SEO guideline updates that occurred over the previous year. The August 2022 Google helpful content upgrade is one of the most recent significant modifications. The aim of the upgrade, according to Google, is to "surface more relevant, authoritative, and helpful content in search." As a result, Google's search results will give this kind of content more value and weightage. Content from sources with a reputation for professional experience will also be given priority in the update.
The Google Core Algorithm Update, a continuation of a significant modification that happened in May 2022, was introduced in September this year. The search result ranks for your site (or that of one of your clients) may alter as a result. Due to this and the fact that they are always changing, it is crucial to be aware of Google's SEO standards. The Google Search Central news is a fantastic tool for staying current with SEO news.


Image Source:
New Keyword Research Trends
Google made an adjustment to its algorithm, as mentioned above, with the intention of raising the standards of search results. This required modifying how keyword research is applied. Google started punishing websites in particular that overuse keywords in their content to skew search results. Additionally, the helpful content update made it crucial to find keywords that raise the ranking of your website.
The use of exact-match keywords is declining: Google has long attempted to comprehend search queries beyond simply matching word strings to the search index entries, and they have been successful. However, only a few SEOs were aware of the update's significance or how much it altered all they previously knew. Google made it clear with Hummingbird that they were working to gain a better understanding of users' search journeys, which would ultimately solve all of their issues. No false signals or algorithm manipulations will have an impact on the quality of their search as long as they are able to figure out exactly what a searcher wants and learn to offer it to them. Google first stated that they hoped to understand "things" rather than just "strings of words" in Hummingbird. In other words, exact-match keyword strings started to lose their usefulness with Hummingbird. After Hummingbird, BERT was introduced, which improved Google's knowledge of how people search.

Google sees 15% of brand-new search inquiries every day. Such diversity exists in searching habits. Instead of focusing on keyword matching, Google now aims to provide thorough responses that can be used. That's also what your SEO strategy should try to achieve. Whatever method you've been using to conduct keyword research is probably still effective. You can use it to organize your site, prioritize your content assets, and comprehend the demand for particular searches. These days, the optimization stage is wholly different. Including that word in the page title, description, and headings is no longer sufficient. Find out what would fulfil the searcher's aim by asking:
"What are they truly seeking for? A list, a video? A product to purchase? Any minor differences in a searchable keyword string (such as singular vs. plural) can indicate a search intent that needs to be taken into consideration.
Look through search snippets and conduct a Google search for that term: Google is so adept at determining what a searcher needs, they produce search snippets that can provide a wealth of information.
Top priority should be branded keywords: There are various reasons why more and more people are utilizing search to find websites. Only a few powerful browsers provide address bar searches like Google Chrome. People are becoming accustomed to voice searching and now only use brand names while searching. In other words, your hard-earned clients who are probably aware of your brand and may be prepared to make a purchase are compelled to search for your brand name. Many businesses have no idea what appears for their branded searches or how many clients they lose due to ineffective in-SERP reputation management. Three things are absolutely necessary to understand about brand-driven search:

Most of these are high-intent queries: Searchers who enter your brand name desire to make a purchase from you.
These are frequently your current, loyal clients who make more purchases than new ones.
These two elements elevate these brands to the top of your priority list.
But you have little control over what consumers discover when they search for your brand. In actuality, keeping an eye on and improving for those brand-driven enquiries is a continuous process. It will be there as long as your brand is in existence.
Consider your company name a keyword: You can expand it, make it more effective, and keep an eye on your site's ranks.
Determine the underlying causes of your customers' brand-driven search behavior. Find the things you can do better to address the issues raised by those questions.
Your sales funnel should incorporate your branded search questions; this applies to everything from your About page to your product pages and lead magnets.
Entities are crucial: Google uses entities to make sense of the world. All entities have proper names, including places, individuals, brands, and others. Google's understanding of the world is based on a map of items known as the Knowledge Graph. The existence of entities aids Google in comprehending the context and the search intent. Being a Google entity means that you will show up in searches even if your name is only implied. Google is able to determine the purpose of any search using entity associations.
Widen keyword group and narrow it down by relevance: Starting with broad keyword categories and then focusing on more relevant keywords is a good method. By doing so, you may cover a wide range of potential searches while concentrating on the terms that are most likely to result in sales. Make a list of broad keyword categories that are applicable to your business to get started. If you own an electrical business, for instance, some general keyword groupings you might consider using include "electrical services," "electrical products," or "electrical tips." You can start studying particular keywords inside each group once you have a list of broad keyword categories. Furthermore, you can start to focus on them once you've found a few pertinent terms. This is accomplished by considering variables like search volume and amount of competition. You can make sure your marketing efforts are targeted to the appropriate audience by taking the time to conduct a thorough keyword research.
Matching the intent of your target audience: When creating your keyword list, you must keep in mind your target audience to make sure they can find your material. The search phrases for what you have to offer will be determined by the requirements and intentions of your target audience. Let's take the example of a business selling women's apparel. If they're looking for something to wear to a formal event, your target market may be searching for "dresses." If they're seeking for something more casual, they might alternatively be shopping for "jeans." Or, if they're just shopping for a new wardrobe in general, they can be looking for "clothing." Not just for 2023's keyword research, this is significant for the coming years as well. This also applies to any other marketing or advertising that you perform. After all, you won't be able to connect with your target audience if you don't know what they're looking for.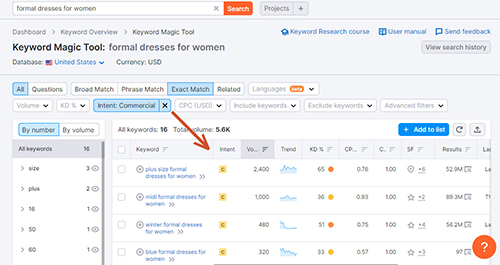 Image Source:
Since search engine optimization is rapidly changing, brands must have an agile strategy to stay relevant. Your firm is nearly ten years behind if you still conduct keyword research using the outdated exact-match method; therefore, it's critical to stay on top of the most recent trends. In order to employ the latest keyword research trends and efficient keyword research techniques to increase ranking, traffic, click-through rates, and conversion rates, you may also turn to a search engine optimization service.