Gaining an edge on the competition can be challenging in the online advertising arena. If Google Ads are a part of the marketing strategy, just gaining more clicks is not enough, gaining more high-quality clicks is important. The average Google Ad converts just 4.40 percent of the time. Google Ads extensions are a great way for your ads to stand out from the competitors in a crowded online market place. These extensions not only improve the quality of your ad campaigns, but also offer more insight into what is working and what isn't working. They can add an edge to any campaign, helping to separate the top online performers from the mediocre.
If the Google Ads account is not structured or managed effectively, the click through rates (CTR) of adverts would be low. This would be like giving your competition a helping hand by increasing their ads click through rates. If implemented in the right way, Google Ads can help businesses meet their goals to increase brand awareness and revenue. Businesses looking to enhance their brand reputation can utilize the services of a reputable search engine optimization company to get their Google Ads ready.
What Are Google Ads Extensions?
Ad extensions can help claim or take up more real estate on search engine result pages (SERPs) and provide additional link and other information to a website that can draw people in and increase the click through rates (CTR). When implementing a new ad extension, Google finds there can be about 10-15 percent (on an average) uplift in CTR. There are different types of Google Ads extensions, each doing different things, For instance, with some it is possible to add reviews or a call button, while others can be used to add a discount or brief testimonials. This is probably the reason that we get sponsored results that look different from each other, when searching on Google for something. Google Ads extensions not only focus on making the search results look presentable, but there are several other benefits they offer-
More Ad Space – Google Ad space is limited. But with extensions, it is possible to claim more real estate by adding content and CTAs. For instance, in the below ad, company 1 has a long, detailed ad that offers viewers more options, while company 2 only has a one-line ad with little detail.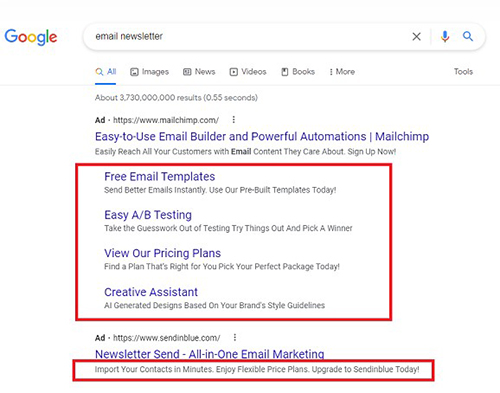 Provide More Information – Larger ad text allows making a stronger case to targets about why they should click on a particular ad.
Increase Visibility on SERPs – The larger size of extended ads makes them more impressive on the search engine result pages.
High-quality Leads – When more information is provided in the extended ads, people who are interested have a higher chance to respond. In fact, 50 percent of people who visit a site from paid ads are more likely to buy than those coming from an organic link.
Offers Better Ad Ranking – Google uses a variety of factors to determine the ad position, including expected CTR, relevance and landing page experience. Using ad extensions will automatically improve page ranking, as it allows Google to offer a better variety of ad formats.
Better Use of PPC Budget – As extensions improve click through rates, they can also contribute to lower cost-per-click (CPC), which in turn means you're getting more out of your paid ad spend.
Types of Google Ads Extensions
In order to improve conversions from paid campaigns, Google Ad campaigns are important. However, to derive the best possible results, it is important to make sure that the right extensions are utilized. Here discussed are the different types of Google Ads extensions
Location – Reports suggest that 46 percent of all Google searches are for local information. Ideal for businesses that rely on in-person visits for transactions, location extensions lets you add the physical address in the ad. These include – phone number or call button for mobile users, a map to the location, or the distance to it. This extension works for any businesses that primarily operate online and depend on in-person transactions, including restaurants, retail locations, and service providers like beauty salons.

Product – Product extensions are a unique way to enhance products listing. This is a useful tool for any campaign wherein goods related to target keywords are sold. As products are more specific than location or phone number, it is important that the campaigns be more granular, particularly in cases where a wide variety of products are sold.
Site links – Reports from WordStream suggest that advertisers have seen an 8 percent improvement in their click-through rate by using site links Google ads extension. These extensions are ideal for directing users to other pages on a website and allow target users to choose whether they would like to visit a website page. Common pages used with site links include – Contact Us pages, pricing pages, sale pages, and testimonials pages. It is important to choose whether site links need to be added at the account, campaign and ad group level. Only four links can be added at a time; therefore, make sure that the site link extensions added reflect a specific website.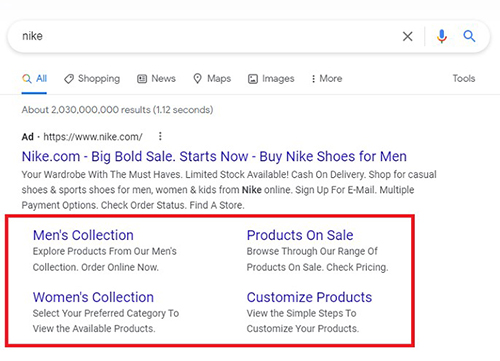 Structured Snippets – Identified by colons, structured snippets are perfect for highlighting products, services and popular features users may be searching for. In this way, it is possible to list a few different options the visitors will have if they click through to a website. Adding structured snippets not only helps provide value before the click, it can also help disqualify poor leads that may be taking up time and budget.
Call Extensions – As per reports, about 63 percent of organic searches take place from a mobile device. Call extensions are a simple way to add a phone number and a direct calling option in an ad. By adding the call button, you can tell the target customers that a specific service is just a phone call away. For a business that operates in different locations, call extensions can be used along with location extensions to attract even more qualified traffic.
Callout Extensions – These are 25-character snippets used to highlight important selling points, sales or any other key points about a business, products, or services. For instance, if a business website wants to promote 25 percent off sale, free delivery etc. callout extensions are perfect. The best callout extensions tend to use numbers and specifics. These extensions are quite easy to customize and makes it even easier to highlight some key business offerings.
Affiliate Location Extensions – As per reports, about 76 percent of consumers who do a local search on their mobile phones visit a physical store in the next 24 hours. Therefore, it is important to make sure that target customers have the right information (including the location) when they are searching for products. Affiliate location extensions are useful for companies that sell their products through third-party retailers. With this type of extension, Google will display the nearest location where the product is sold, either as an address or on a map.
Price Extensions – Pricing is one of the most important factors when they shop online. This type of extension is suitable for businesses that offer different products, sell service packages and have variable pricing. These extensions let set cost expectations upfront and help build trust with searchers. As a result, users remain informed and are more likely to buy by the time they search a specific website.
App Extensions – Data suggests that 85 percent of mobile users prefer apps over mobile sites. App extensions offer a unique user experience that help increase the likelihood that target customers will spend more time using it and potentially find something that arouse their interest. By providing a download link in the text ad, app extensions make it easy for users to download it and this in a way could boost conversions.
Promotion Extensions – The promotion Google ad extension involves highlighting sales and promotional offers a company makes available. This can include – price, discount percentage, sales offers, and other data on specific dates, days, or even hours – to attract customer attention.
Google Ads extensions are an excellent tool for those businesses who are looking for an easy way to increase click-through rates, attract more visitors and increase brand awareness and revenue. With different types of Google Ads extensions available, it is important to choose the most relevant one that suits your specific business goals. When applied properly, these extensions help generate quality leads and make the most of the PPC budget. Businesses looking to enhance their reputation and brand can benefit from the services of a reliable digital marketing services company to get their Google Ads ready.