What was initially started as a sociable and responsive medium for connecting with friends and family, and sharing personal images has now grown into an aggressive marketing platform for all types of businesses including healthcare businesses. Reports suggest that in the United States alone, about 79 percent of all Americans have at least one social media profile. According to a study done by MarketingNewsWatch.com, the average internet user has an average of 7.6 social media accounts. With significant changes being introduced in the plastic surgery field – like from traditional invasive procedures to minimally invasive and totally non-invasive procedures – social media trends for this medical specialty are also changing. Social media could be the most efficient and valuable online marketing tool for plastic surgery practices to promote their brand, increase online visibility and create deeper connections with patients. Patients are now increasingly using social media platforms to choose their plastic surgery practices, making it critical for plastic surgeons to build their presence on all prominent platforms. Relying on the services of a reputable plastic surgeon SEO company is the best way to implement novel social media marketing strategies that can attract new clients to your practice.
Here are some top social media marketing strategies for plastic surgery practices –
Choose the appropriate social media platform – First and foremost, you need to choose specific social media platforms and create accounts for the same. Ideally you can start off with just two or three prominent platforms like Facebook, Instagram or Twitter, each with their own specific strategy. As you become familiar with the nuances of each network and type of audiences and style, you can look to add more networks to your list.
Attract clients through Before and After Photos – Before and After Photos (used with the consent from patients) can give your potential clients a clear idea on how the surgery results would be like. These images will help your clients understand the areas your plastic surgeons are specialized in, and enhance the credibility of your practice. You can tag the patient in the post as they will repost or share it on their social media accounts, allowing their friends to see it. Finally, your post will reach someone seeking your kind of services and they will contact you as you were recommended by someone else within their social networks.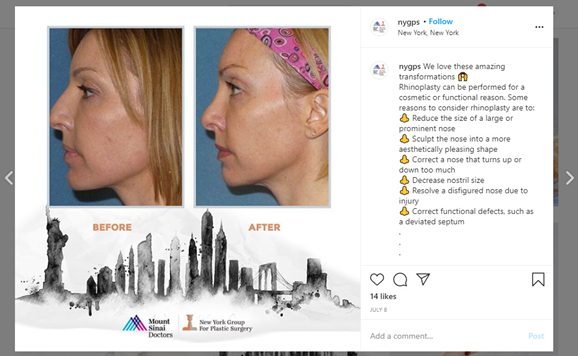 Source: https://www.instagram.com/p/CCWmrgyD2WO/
Build trust with patient testimonials – Patient testimonials and reviews are a valuable tool on social media for plastic surgeons as they are the new "word of mouth" promotion. After every procedure, request your clients to fill out a questionnaire. You can use those in your social media posts (with a before and after photo if the client consents) to build credibility with your following. If possible, ask clients to post photos and tag you on their social channels also, because user-generated images help build trust in the minds of clients who haven't consulted your practice yet.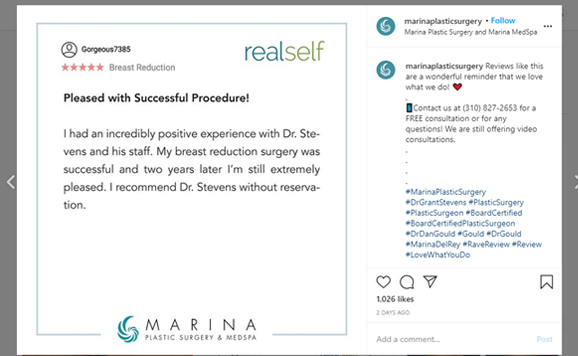 Source: https://www.instagram.com/p/CCmFB62FT-k/
Drive traffic to your website content – Generally, plastic surgery patients frequently ask questions to surgeons. Plus, there are several after-care tips or precautions that patients need to take to achieve the best post-surgery outcome. Try to convert these educational topics into informative blog posts. Make sure to share those blog posts via social media platforms to drive more traffic back to your website. Offering followers free advice will influence them to come in for a consultation. In addition, posting valuable content will boost your search engine rankings so patients can find you easily online. One of the top ways to promote your blog posts on social media and educate followers is through short video clips. Videos greatly increase your likelihood of nurturing engagement from followers and are a great medium to discuss a specific procedure, showcase patient results and announce important updates. However, while using videos it is important to find what exactly works for your practice page. For instance, in some cases, your audience may prefer to read about the procedures instead of watching a video or they may search for more video testimonials. Create video content as preferred by your patients and make them share your content and get your name out there to their network.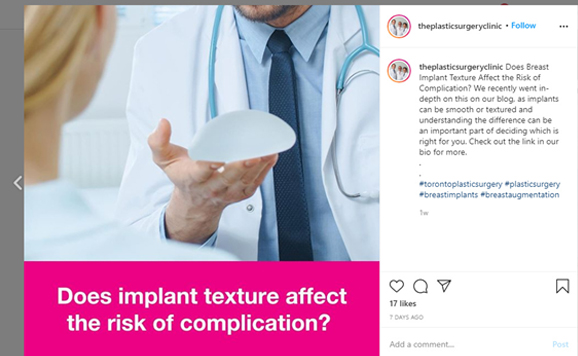 Source: https://www.instagram.com/p/CCYzqxon6wK/
Stay unique on every social media platform – If you repeat the same content or posts on your social media channels, your followers will most probably become disinterested and bored. Make sure to use unique images and copy for each post, tweet or pin. The social media strategy should be distinctive and relevant for each specific platform. For instance, in Facebook, video posts boost SEO rather than standard posts. Try to produce live videos and share blog posts from your website. On the other hand, on Twitter, original content links to blogs, and animated GIFs and entertaining designed images will bring in the desired results. Instagram channel aims to offer a close glance into your practice and patient base. Try to use high-resolution images and videos like before-and-after photos, and other posts that showcase your weekly and monthly promotions. Make sure to post stories on Instagram weekly or daily. On YouTube, you can start a weekly vlog, or create a monthly roundup of all your procedures.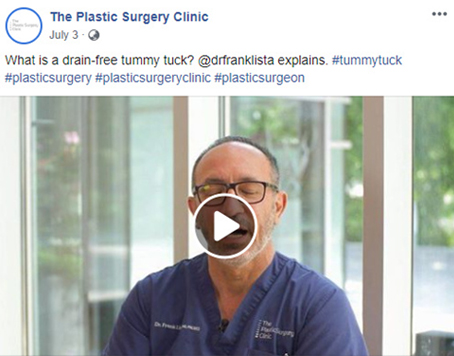 Source: https://www.facebook.com/PlasticSurgeryClinicGTA/videos/634266790514209
Respond and engage with followers – As a plastic surgeon, you can generate leads from your social media accounts. Never treat social media as a one-way communication tool. Rather, try to interact with your audience on all social media channels. Respond to comments, questions, and direct messages in a timely manner. If your following on social media grows, it may not be possible to respond to every single comment. In such cases, prioritize and respond to as many user comments as possible. In addition, you can leverage social media messaging on your own website by giving messages like – below you can message our Facebook page directly or feel free to reach out with any questions. Also, you can engage with other brands and influencers by tagging, reposting, messaging, and commenting. The more you engage and participate on social media, the more you can connect with your clients.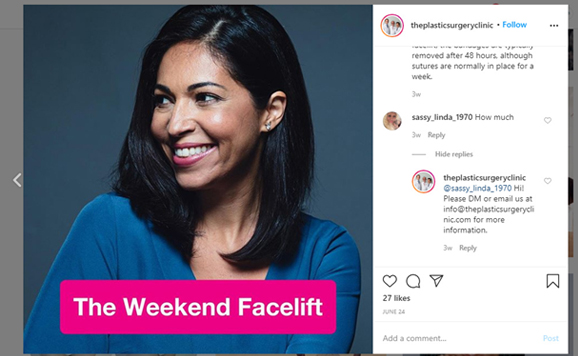 Source: https://www.instagram.com/p/CB0mKDqHEOI/
Post high-quality images and videos – Try to post high-quality images and videos of your surgery practice space, staff and patient interactions which can be shared on your social media profiles. Most smartphones have impressive camera features that can be used to capture professional-looking images suitable for Instagram and other social media platforms.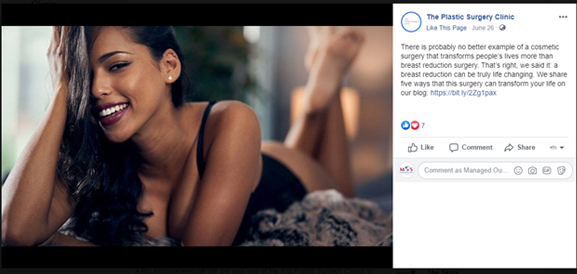 Source: https://www.facebook.com/PlasticSurgeryClinicGTA/
Share informative posts – It is important for a plastic surgeon to inform his/her patients about the specific services they offer, what they do, which specific body area they are specialized in, and how patients can avail of their services. You can share relevant information on Facebook and Instagram or Twitter. Try a simple diagram or statistic to get your message across. Then, add any interesting piece of information about your post in the text. Try creating posts that offer a solution and interact with patients.
Post consistently – Consistency is an important factor for a successful social media strategy. Whether you post once a week, twice a week, or once a month, keep the frequency consistent. Most people will look for expert advice and information from plastic surgeons about procedures and other topics related to the cosmetic surgery industry. Once you decide your posting frequency and messaging strategy, create an editorial calendar that lists the time and topic of each post.
Create promotions (specific to the social media platform) – Social media promotions are a great way to encourage participation. Offer promotions that encourage repeat visits or promote other services. Offering a popular procedure at a discount is a great way to generate returns while giving your patients something they want. Offer Facebook friends a discount on services, and instruct your friends to bring in proof that they "like" your page. For instance, "Come in for Botox and receive 10 percent off dermal fillers". On the other hand, holidays are the perfect occasions to generate sales. Gift cards are also good options to offer discount to your top customers around the holiday occasions like Valentine's Day, Christmas or New Year.
Highlight your products – Did your surgery practice recently invest in a new machine or are you offering new products or services? For instance, if your practice is introducing cool sculpting procedure, convey the details about the same to drive audience interest. Highlighting a new product or service is one of the best ways to get people engaged. Ask them questions about what they expect or benefit from the specific offer.
Personalize your practice – For plastic surgeons or surgery practice, the ability to connect with your patients is crucial. Incorporating certain unique strategies in social media can help you personalize your practice and connect with patients on a human level. Use social media as a prime platform to showcase the many layers of your personality. Always try to focus on your practice, your offerings, and provide information to prospective patients who are planning to make a change in their lives. Display the human side of your patients through stories. Craft patient stories either through blog posts or videos and then share these stories on social media. Patient stories show your prospective patients how you can help improve their lives. A good patient story must include a back-story on the patient, the journey leading up to the procedure, as well as life following the procedure.
Always include hashtags – Using hashtags is a great strategy for effective social media marketing for plastic surgeons. Hashtags help patients locate a plastic surgery practice easily. Each post should have unique hashtags. Some examples of highly searched hashtags on Instagram are #tummytuck, #plasticsurgery and #botox.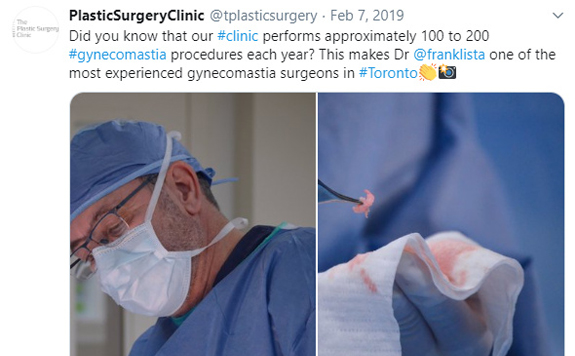 Source: https://twitter.com/tplasticsurgery/status/1093513463966720000?s=20
Social media marketing for plastic surgery practices has its own advantages. So, if your plastic surgery practice does not have profiles on all relevant social networking sites, create them and fill in your practice's information. Post some engaging content to begin adding followers. Nowadays, people are more interested in engaging via social platforms, which makes them ideal venues for plastic surgeons to promote the services. You can design an effective digital marketing strategy with the support of a plastic surgeon SEO company that will help you connect with a greater number of people or patients who may be looking for specific cosmetic procedures that you are providing.