The significant evolution in digital marketing has resulted in the saturation of diverse business sectors, causing unprecedented competition – both online and offline. This digital competition wave has affected the law industry as well. When it comes to SEO, law is a very competitive industry. Receiving traction from potential clients defines the existence of any successful law firm. As location binds most searches for legal questions or services, showing up in the most relevant results is important when it comes to targeting local searchers. Google's Local Pack has become more competitive, showing fewer results. Successful law firms made the change by adopting local SEO strategies. A quick digital revamping of organic SEO tactics with a local mindset can help law firms to get featured in local search results. This will also help build trust and allow clients (searching for legal services) to locate your law firm website. A professional digital marketing agency for law firms can help attract more targeted audiences to your business and improve brand visibility.
What Is Local SEO for Law Firms?
The evolution in digital marketing trends for law firms is the direct result of people searching excessively for attorneys on Google. Reports suggest that about 97 percent of US millennials who availed service from a law firm, searched online before booking a legal appointment. In fact, a quick analysis of the digital marketing space clearly shows that there is a change in the buying process. A type of search engine optimization technique, local SEO targets local SERP features that appear at the top of the page, often alongside a map, when Google deems a search query to have location-based intent. Organic search focuses on the results below ads and SERP features. However, for local SEO efforts, it is important to bring a local mindset to the organic results. Local SEO is a part of lawyer SEO that focuses on getting exposure for attorneys in front of their prospective clients in their primary business location(s). Basically, local SEO involves using strategies that help optimize a law firm's website to appear at the top of search engine results (SERPs) for keywords with local intent. For instance, if someone is looking for a legal service in their local area or uses localized search terms like [best lawyer in New York], they are likely to see Local Pack results –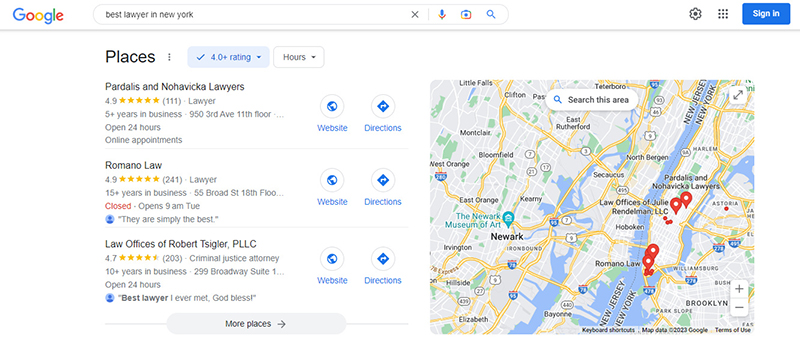 Image Source:
Local SEO Strategies That Can Benefit a Law Firm
Below discussed are some of the top local SEO strategies that will help a law firm appear more prominently in the local search results – both in organic search as well as in Google Maps –
Website Optimization – Creating a fast, functional and SEO-friendly website to attract organic traffic is one of the initial aspects of local SEO for law firms. As prospective clients typically search for a law firm using relevant keywords, it is essential that your law firm shows up in the search results when they are looking for the legal services that your firm offers. If your law firm already has a website, then it is essential to follow certain on-page and technical SEO best practices to address any on-site issues. This could include – fixing broken links, using your target keywords through page titles and content, optimizing website's load speed and laying out a user-friendly site structure. On the other hand, if your law firm is on the verge of building a new site, it is important to ensure that the web developer understands SEO and designs a site optimized for search engines and people. A quickly-loading website is easy to navigate and can be indexed by search engines. This will create a better chance of ranking in the local search results.


Image Source:
Take Advantage of Google My Business – Google My Business (GMB), now Google GBP, is one of the significant factors to consider when looking to establish an online local search presence. A well-optimized GMB listing ensures that your website appears on top of Google search and also on Google Maps. Often, law firms struggle to rank well on Google Maps because they lack a strong presence in their city's area code. This means fewer clients will see them, and they won't show up in the search results. To gain visibility on search engine results pages (SERPs) and Google Maps, start by taking advantage of your Google Business Profile (GBP).

A GBP helps businesses connect with customers across all devices, whether the motive is to reach new audiences or improve conversions. Include the business hours, services, address, phone number, website URL, and more in the GBP profile. Add photos and details about the law firm, and then add information about the staff, types of services and the location of the firm. In short, GBP is an online directory and one-stop shop for prospective customers, so it is crucial to update it consistently. Claiming, customizing, and updating the GBP will have a huge impact on the way the target audience builds a picture about a law firm. It also helps accumulate reviews from past clients, thereby boosting the law firm's reputation and local rankings.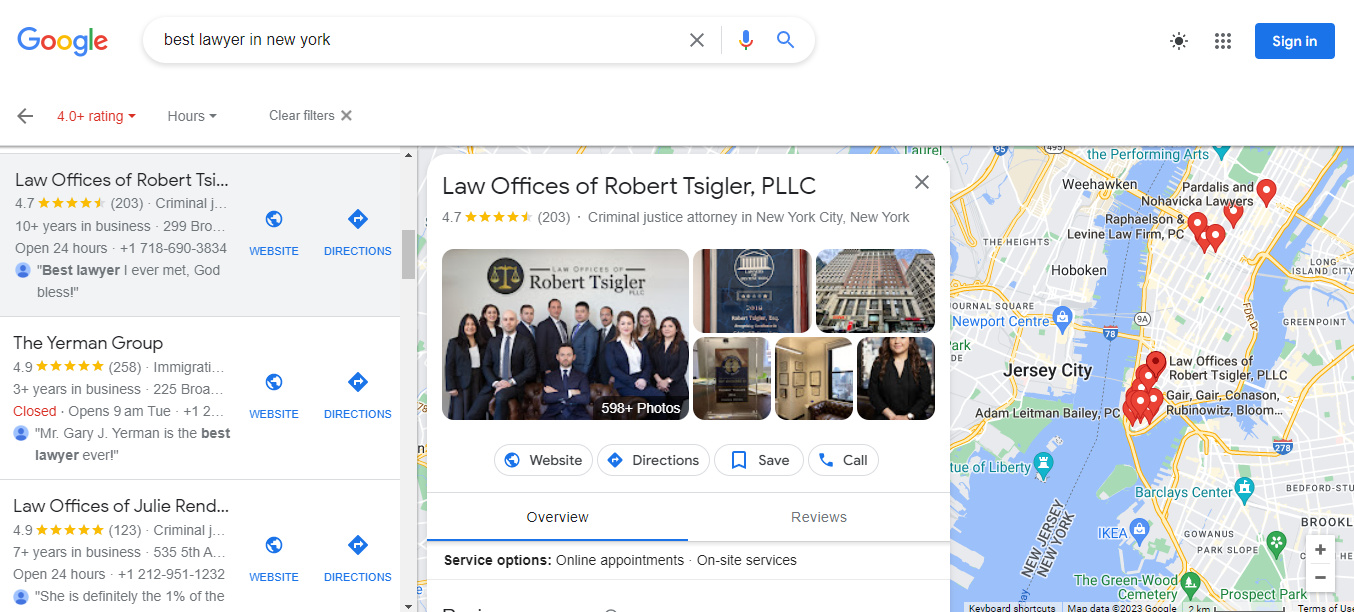 Image Source:
Mobile Experience – Reports suggest that 50 percent of local search takes place on mobile devices. Most clients who use their smartphones to search for legal information are more likely to take the intended action to confirm appointments. Creating a mobile-friendly site can help clients easily navigate your site even on a small screen. Use clear text, fast-loading images, and clear call-to-action buttons in the website. Ensure your site is mobile friendly to keep visitors on the website for longer.
Content Creation – The content posted on the website provides a detailed view of the law firm, including what services are offered and how visitors can get in contact with the firm. In addition, it also helps attract organic visitors when using localized keywords throughout the titles, meta descriptions, and body text of the webpages. In conducting keyword research for a law firm content strategy, use keyword research tools like Semrush, Google Search Console, or Soovle. This can help locate terms relevant to the areas a law firm serves and the services. For instance, if your law firm offers criminal law services in Los Angeles, target keywords such as [Los Angeles criminal lawyer] or [criminal law attorneys in Los Angeles]. Further, these terms can be used on a "Criminal Law" service page or the homepage of the website. In addition, informative articles can be published to attract prospective clients. This is the point where the need for a local SEO strategy arises. After identifying the relevant keywords to be targeted, it is important to write relevant and informative content that relates well with the target audience group's interests. Using these target and related keywords throughout the page helps these terms rank high in local search. However, always remember not to overload the content with keywords that take away the whole subject of the content.


Image Source:
Citation Signals – In simple terms, citations are references to a business name, address and phone number through trusted business directories. When Google discovers business information on these sites, it helps to add up a law firm's credibility. In order to optimize the listings, it is important to build citations across various online directories. There are many online channels – web directories like Yelp, BBB, and Yellow Pages; maps, review sites, apps, and GPS navigation that can be used to build quality citations. In addition, social media accounts can also be used to create citations.


Image Source:
Reputation and Reviews – Client reviews can directly create an impact to increase a law firm's authority, online reputation, and in turn search engine rankings. For instance, when prospective clients search for a lawyer and see that a law firm has the most positive reviews, they may be inclined to choose that specific firm over the other competitors. Clients can post reviews on Google Business Profile, Facebook, and other directory listings. Having several positive reviews can set a law firm apart while indicating to Google that the law firm is legit. However, it is crucial to have a specific strategy in place to monitor and respond to online reviews promptly. Apart from positive reviews, it's essential to respond to negative reviews as well. A recent study reported that 53 percent of consumers expect a business to respond to a negative review within seven days. Responding to both positive and negative reviews is a sign that a company provides good customer service and values customers' suggestions or impressions related to the business.


Image Source:
Link Signals – Link Signals are essential for organic rankings and improving the website's position in local search results. Moreover, Google's algorithm still uses link authority when considering where to rank a website. There are different types of links that can be created. Inbound links point to your website from other authoritative websites. When used with branded keywords, these links will help to achieve better search engine ranking for local search queries. Internal links, on the other hand, point to another page or article within the website of your law firm. Outbound links are links within the website of your law firm that point to external sources, which could be a government website or any other authoritative website – that will provide users with additional information. Local citation links are the links from other sites that will point towards your brand. These are mostly profiled links created for your site, and are a great way to build local authority.
Local SEO has become an increasingly important aspect for law firms looking to grow or expand their practice. Optimizing a legal website and listings for local search will give potential clients a better idea about your law firm, the areas you serve and help attract new clients from the community you serve. Focusing on the above legal marketing services and local business SEO tips can help improve your website's performance in terms of better rankings on search engine pages thereby placing you in front of a local audience. Relying on the professional services of local SEO companies can help effectively implement these techniques and improve rankings and conversions.