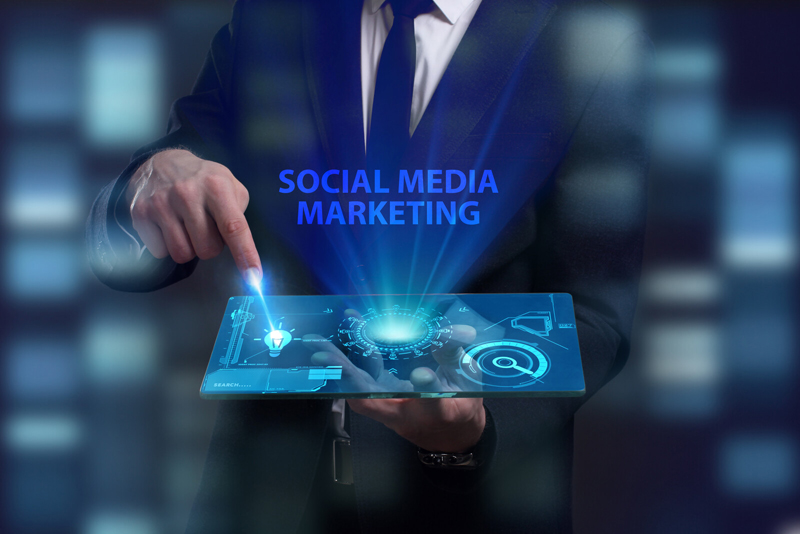 Social media is a powerful strategy for businesses of all sizes to reach prospective customers. Even in healthcare, social media interaction helps raise awareness about health concerns. Healthcare providers interact with the public to attract new patients as a part of their social media healthcare marketing strategy. With continuous communication through social media, people become familiar with the brand or service. They buy from people they are familiar with and believe in. "Search engine optimization is an awesome foundation for your website and an amazing way to get evergreen pull; but when it comes to scaling a business and taking it to the masses, especially in commerce, you cannot beat strategic social media marketing", says Karl Kangur, founder of SEO Agentuur Business Media. So, the biggest impact of social media marketing is that you can reach your targeted audience by continuously engaging with them. An important thing is determining the platform that best suits your business and integrating it in your marketing plans.
Well, today, social media is not only used for entertainment, socialization, and news consumption, it has risen as one of the primary marketing channels. Nearly half of the world's population is now on social media, so your business must develop an effective social media marketing strategy to reach your targeted audience.
Here is a list of social media statistics that could help you ensure better social media marketing:
Facebook statistics: According to sprout social 2019 index, Facebook is the most used platform among marketers and consumers.

For brand marketing, 89% of marketers use Facebook.
66% of people say that they Like or Follow a brand on the platform.
83% of surveyed consumers utilizes the platform.
Facebook had attracted 2.5 million active monthly users by the third quarter of 2019.
42% of social marketers already developed a strategy for Facebook Live.
According to Social Media Examiner, 93% of social media advertisers use Facebook ads regularly.
Facebook Stories has 500 million daily viewers, according to TechCrunch.
According to Pew Research Center, 68% of Americans use Facebook.

Instagram statistics: According to Hubspot, Instagram's traffic increases immediately during the lunch hour and at the end of the workday across all the industries. During this time, advertising rates also increase as it is the peak time of consumers available. Some statistics are:

72% of teens use this platform.
64% of users are under 34 years of age.
Compared to images, videos get 21.2% more interactions, and when compared to carousels, they get 18.6% more interactions.
71% of American businesses use the platform.
Ads spending on Instagram is 23% higher than on Facebook.
Approximately 25% of Facebook's total ad revenue came from Instagram in 2019. By the end of 2020, the revenue shared by Instagram will rise to 30% globally.
78% say that Instagram posts are more effective in Influencer marketing, while 73% repeat the same for Instagram Stories.
According to Hootsuite, 92% of Instagram users say that they made a purchase, followed a brand, or clicked on their website after seeing a product or service.

LinkedIn statistics: Compared to other platforms, LinkedIn audiences are entirely different. It is the largest professional network. This platform is ideal for B2B marketers, employers, and job searchers as well.

According to Hubspot, it has more than 690 million active users.
In the first quarter of 2020, LinkedIn sessions increased by 22 percent year-over-year.
In the 2020s second quarter, LinkedIn revenue increased 21 percent year-over-year.
80% of social media B2B leads comes from LinkedIn.
For company websites, over 46% of social media traffic comes from LinkedIn.
LinkedIn is 277% more effective than Facebook in generating leads, according to Sproutsocial.

Twitter statistics: According to Neil Patel, clicking on tweet links contributes to 92% of all interactions. For each branded tweet, either include an image, video, or one or two hashtags and a link to drive traffic to your website from the social site.

According to Hootsuite, Twitter has 152 million monetizable daily users.
29% of its users are in the age group 25-34 years.
People spend about 10 min and 22 sec on the platform whenever they visit it.
22% of American adults use the platform.
According to Hubspot, 53% of users said they bought a product they first saw on Twitter.
Twitter ads are 11% more effective than TV ads during live events.
According to Dreamgrow, 78% of people who complain about a brand through the platform expect a response within an hour.

YouTube statistics: According to Hootsuite, the platform has more than 2 billion users visiting every month, without counting the people who are not logged in. After Google, it is the second most-visited website and is the preferred form of social media marketing worldwide.

33% of the world's population uses YouTube.
15% of the traffic comes from the U.S.
70% of users watch YouTube on mobile.
Its algorithm determines 70% of what people watch on YouTube.
Most of YouTube's user base is male. The men to women ratio is: 55% to 45%

Pinterest statistics: It is an inspirational platform. The majority of Pinterest users are women, and these women power household buying decisions in the U.S. People use this platform to discover more brands, products and find new things to get purchase inspiration.




According to SproutSocial, the platform reaches 83% of women ages 25-54.
They have 300 million monthly active users globally.
98% say they try new things they find on Pinterest.
77% of weekly users discovered a new brand or product on Pinterest.
There is a 30% increase in monthly active users year-over-year.
The world of social media is dynamic and continually changing. These are only a few from a long list of statistics. The ways how people use the internet are also evolving quickly. People are making it useful for businesses, education, etc. Social media marketing has made so many changes in healthcare. It raises public awareness about new, emerging, and annual health concerns. It helps people gain more information about diseases, precautions, and treatment. It makes it possible for patients to communicate with their healthcare providers and improve health outcomes. So, as a marketing strategy, social media helps businesses of all sizes by helping you reach your targeted audience and build your brand or service.