Google Plus was once part of all healthcare SEO strategies. But not anymore. Guess you'd already have known that Google Plus is closing.
Google+ Never Quite Caught On
While the stated reason behind the phased closure of Google+ is privacy compromise of users' personal details that struck twice, the latest of which was blamed on a software glitch, it could be considered as more of the straw that broke the camel's back. It was the immediate catalyst, but the writing was already on the wall for the social network run by the world's most popular search engine. It never quite caught on with audiences and though it was launched as a rival to Facebook with some unique concepts such as Circles, it failed to make any noticeable impact on social networking.
When news of the intended, phased closure of Google+ first came out in second half of 2018, it was estimated to have around 100 million active users all through the network. 100 million users may appear to be a massive user base, but when you see that Facebook has over 2.2 billion active monthly users, Google+ doesn't seem to have much. Search Engine Journal reports Google admitting that 90% of those 100 million users spent less than 5 seconds at each session.
It Was Still Valued by the SEO Community
While from the perspective of the end consumer, Google+ didn't make much of a difference, plenty of businesses and healthcare practices used the network. It did seem to make sense from an SEO point of view. It's likely your practice had been using it as well. The first big Google+ feature that comes to mind is the +1 button launched in 2011. If people liked your blogs or videos, they could "+1" it indicating that they like it or perceive it to be of some value. That certainly gave you a mighty endorsement. A +1 made people think there is something in it. It also became a synonym for liking something. If someone commented on something in any site or online forum, someone would reply "+1" to indicate they liked what was being said.
In SEO circles people believed that +1 could help organic visibility by being a ranking signal. The logic was that the more the number of +1s you got, the more would get collected in Google's profile of you, which would be seen when people, who are in your social circle, looked for something you had recommended. And there was much research conducted back then that seemed to indicate that +1 buttons contributed to rankings, but Google denied much later that +1 buttons were a ranking signal.
Being Owned by Google Meant a Lot
Back when Google+ was introduced in 2011, there were discussions on how important this social network would actually be. The hesitation among the public to adopt this platform for their social networking efforts was clear from the beginning, as were the low levels of engagement. However, the fact that Google+ is owned by Google made organizations think that it would be worth investing time, money and effort in having an active presence in the network. After all, the Google platform has millions of users.
Migrating from Google+ to Other Networks
Now that's the past. The present is that you still have got time till April 2 for Google+ to be totally off the shelf. So you need to migrate your Google+ Community to other social networks. And if you haven't already, it's high time you got going.
Google Takeout
The Google Takeout tool can enable you to download any data from your Google account. Log in to takeout.google.com with your Google account. Then you can select the datasets to export from any Google service, as the screenshot below shows: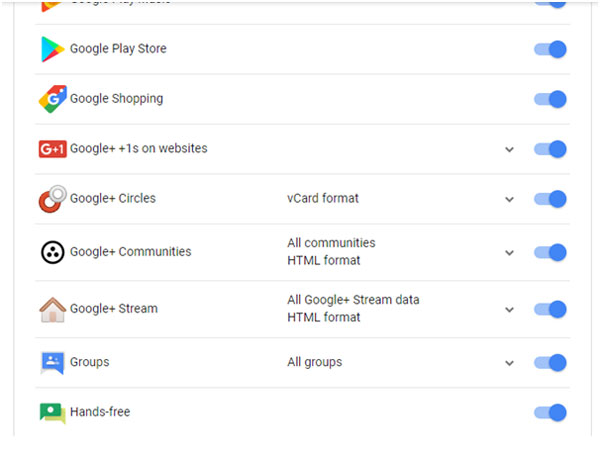 After selecting the datasets, click "Next".
Then, you need to choose the archive's file type and the method of delivery. You can send the data through email and select the delivery method. You can choose the email method or download the data as an attachment. The data can also be saved to Google Drive, Dropbox or other such cloud services. Then click "Create Archive". That data can be moved to Facebook or YouTube or any other appropriate social network.
Remember, Google owns YouTube which, apart from being a social network, has emerged as the second most popular search tool. With Google+ gone as a public social network, Google could place all its eggs in the YouTube basket and look to make it even better with richer features.
We believe you'd have removed any Google+ sharing icons from your websites and blogs. If not, it must be done right away. An advanced healthcare digital marketing agency can help your practice make the right steps to effectively transition from the Google+ era.