A helpful and informative medical practice website is the optimal way to share resources with patients, tackle their concerns, demonstrate your expertise, and spread the word about your growing practice. It is the most important communication and marketing tool for any medical practice. While designing a website for your medical practice, keep your target audience in mind so that you can ensure a great user experience.
Some features can make a lot of difference – both in terms of helping patients trust your practice as well as improving your website's user experience.
Keep the following factors in mind for the best results from your website.
Medical website design in keeping with your targeted audience: Design your medical website according to the patient group your practice aims to attract. Use the most appealing design, and to decide on such a design you could consider hiring professional web design services. If you target younger patients, you could use more color in your design. If your targeted population group is the elderly or those with disabilities, ensure that website navigation is simple and smooth. Also, it should be easy for your visitors to access any information and educational resources you may have on your website, patient forms, directions/maps, and appointment instructions. Have a simple navigation menu with options for requirements such as "Schedule an Appointment," or "Meet Our Staff." For the design to be simple and clear there should be a balance in the use of photos and copy.
Good choice of fonts and images: These contribute to creating a positive tone or feeling about your practice. Choose a font that is modern, attractive, and easy to read. Expert web designers recommend the size of body text to be 16 – 20 pixels. Use high-quality images for the maximum positive effect and ensure that the picture you use is compatible with the message you are communicating.
Display important information prominently: This is very important if you want to get the best results out of your medical website. Your Call to Action (CTA) buttons must be clearly displayed. A clear call-to-action makes it easier for patients to contact the physical location of the office. Making it easy for patients to find the phone number and physical address of your office as well as a valid email address increases the possibility for them to schedule an appointment. Ideally, your primary information should occupy the topmost area of the page so that it is clearly visible. A good website design would present information in a manner in which visitors can quickly learn about your services and make it easy for them to schedule an appointment with you. To enhance readability, place sufficient space between different types of content such as text, menus, and photos. Headers and sub-headers could help in ensuring clarity. Separate the main area of the page from headers and sidebars using contrasting colors.
Tell patients what to expect: This will help reduce any stress the patient may be experiencing. Tell your patients how a procedure works, the recovery time and other such important details. Consider including an FAQ page or a short video explaining everything so that the patients are relaxed and be confident that they are in good hands.
HIPAA compliance: Health Insurance Portability and Accountability Act (HIPAA) was designed to provide guidelines and regulations on the security of the personal information of patients. It is critical that all healthcare websites take extra steps to secure their site to be HIPAA compliant.

Make sure you invest in higher level security measures and use Secure Sockets Layer (SSL) to protect your website. All relevant information related to patients, which is contained in contact forms, appointment request forms and online contact forms must be encrypted. Failing to secure electronic Protected Health Information (PHI) can lead to drastic consequences such as costly lawsuits, HIPAA fines and complaints.
Mobile responsive: Most patients are now visiting your website from their mobile devices rather than desktop computers. So, you need a responsive web design that fits all screen sizes and resolutions – mobile, laptop, tablet and desktop. With advancements in technology, more and more people are now using mobile phones to search for the right doctor and mostly prefer to schedule a consultation online. If your website fails to open in certain devices, you may be losing your potential patients. Ensure that your website's treatment menu and tabs are user-friendly for people on phones and tablets. Test the performance of your website on various devices periodically.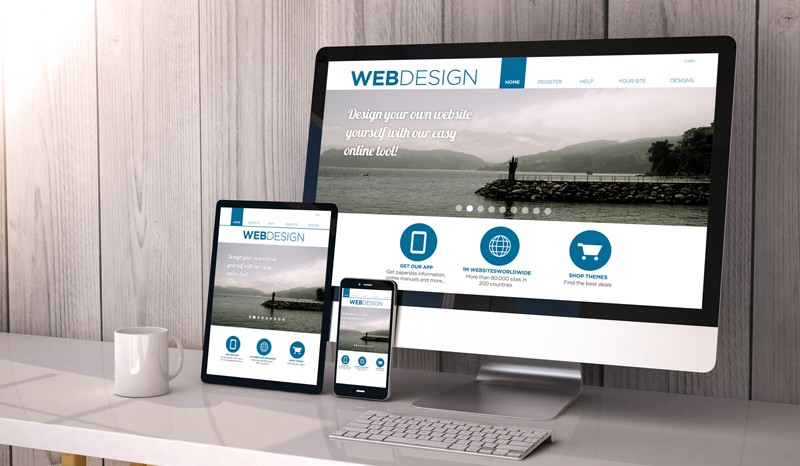 –
Quality content optimized for uses and search engines: Publishing relevant content demonstrates your expertise in the field. Your website should be rich with informative content – blogs, videos, infographics, FAQ and more. Try to incorporate informative videos in the home page to introduce your practice to the reader. Active blogs, especially those written by doctors will help create a connection with patients as well as prospective patients. You could use the expertise of a medical marketing specialist to write good content. This would ensure that the content is in keeping with your brand and will convey your message more strongly.
Your content must be reliable. Do not use real patients' names if you are referring to specific cases. Ensure that your content is compliant with local, regional, and state laws and regulations and make sure it addresses the expectations of your targeted audience.
Quick-loading website: Ideally, your website should load in 3 seconds or less on all devices. If the website takes a longer time to load, it would result in bad user experience. Non-optimized images, cheap web hosting and bloated code are the three main reasons for slow-loading sites.
Ensure CSS (Cascading Style Sheets) animation is tastefully done: Do not overdo CSS animation because it may damage the overall image of the site. Make sure that the CSS animation you use is done moderately and in good taste.
Use new copyright date: Old copyright date in the footer is a serious mistake. It will lead your visitors to wonder whether your office is still in business. It could cast doubt on your reliability as a medical service provider and create a bad impression.

Patient testimonials and case studies: Let the visitors know that you have happy patients. Video testimonials of patients can have a positive impact because they are authentic, more engaging and it improves trust in new as well as current patients. You can integrate patient reviews into your website by creating a page dedicated to reviews and testimonials, by displaying random snippets throughout the website, making small video clips of those reviews and including specific reviews on your services page. Make sure to implement strategies to generate new patient reviews and showcase them on your website homepage and a testimonials page.
Visually appealing photos and graphics: Consider including high quality, attractive photos of patients, staff, and photos relating to various procedures relevant to your practice in your website. Online videos of your treatments and virtual tours of your practice are also great ways to make patients feel welcome at your practice before they ever step foot in your office. Visual content gets more shares and views compared to text. Medical websites featuring visual content tend to perform better than those with lesser visual content. However, ensure that you maintain balance when including visual content. Also, understand that large files sizes could have a negative impact on page loading time and frustrate visitors. Since all devices do not support Flash technology, do not use designs that activate Flash.
Your web design should encourage patient interaction: When your website is interactive, you can get your visitors more engaged and increase conversions. Visitors should be able to perform all tasks required to complete your ultimate CTA before they leave your website. Make it easy for visitors to book an appointment; make a payment, etc. on your website itself without having to call you for the same. Interactive elements in a good website design include:
Forms to enter insurance information, contact details, medical conditions and such important details.
Easily visible buttons for actions such as making appointments, requesting referrals and refilling prescriptions.
Contact details in more than one location in your website make it easy for patients to get in touch with the physician's office in a variety of ways.
Your website should be designed in keeping with current design standards and best practices. Think from the point of view of your potential patients and consider how you will search for the medical services, where you will look for them, and what you expect to find. Your website should provide your targeted audience with the right answers to their questions. Make your practice visible on all important online platforms your patients may use such as social media, YouTube, authority sites and so on.