Social 101
There is no doubt that social media is a major player when it comes to communicating, trying new products, and identifying top brands.
Get a personalized touch for your next social media marketing campaign.
Our team can assist you! Call us at (800) 941-5527!
Social networks have transformed marketing, as this is where customers now communicate and interact online. There are diverse social media platforms – Facebook, Twitter, LinkedIn, YouTube, Pinterest, Instagram, and more for customers to reach you.
Therefore, social media strategies are very important for businesses to build a stronger bond with their customers.
These strategies when executed the right way, can increase your social presence and can have a major impact on your organization.
By optimizing your social media account for your targeted audience, you can
reach more people, who can be converted into customers
drive more qualified site traffic
increase the authority of your brand
engage those users to influence your customers' behavior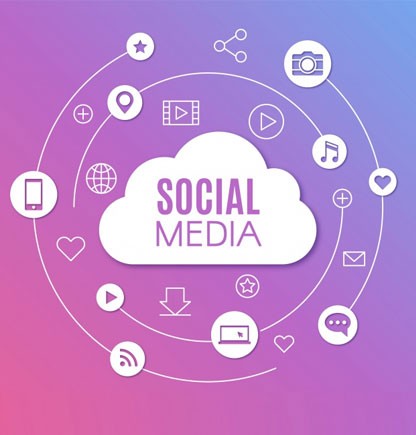 Choose the Right Network Platform
All social media sites are not created equal, and they are not the same in helping you reach your goals. Consider choosing the right channel that works best for your organization, based on your goals and target customer. Remember, each network works differently for each business. Check the functionalities of your site and make sure that they meet your business requirements.
Social listening tools can help you in finding out where your customers and related industries are having relevant conversations. Based on this insight you can choose the right platform to build your social media presence. If your concern is to improve brand awareness, consider sharing valuable content and client testimonials. With our dedicated efforts, we will successfully manage multiple accounts for multiple purposes; making sure we stay up-to-date with changing social trends on your behalf.
Why is Social Media Marketing Important to Grow your Business?
Your customers are online, interacting in social channels with their friends, relatives, and even other brands in search of information. To succeed in social media marketing, make sure you are around to answer their queries.
However, implementing just social media alone may not work. It is crucial that your social media efforts become an extension of everything else you do to optimize your business online.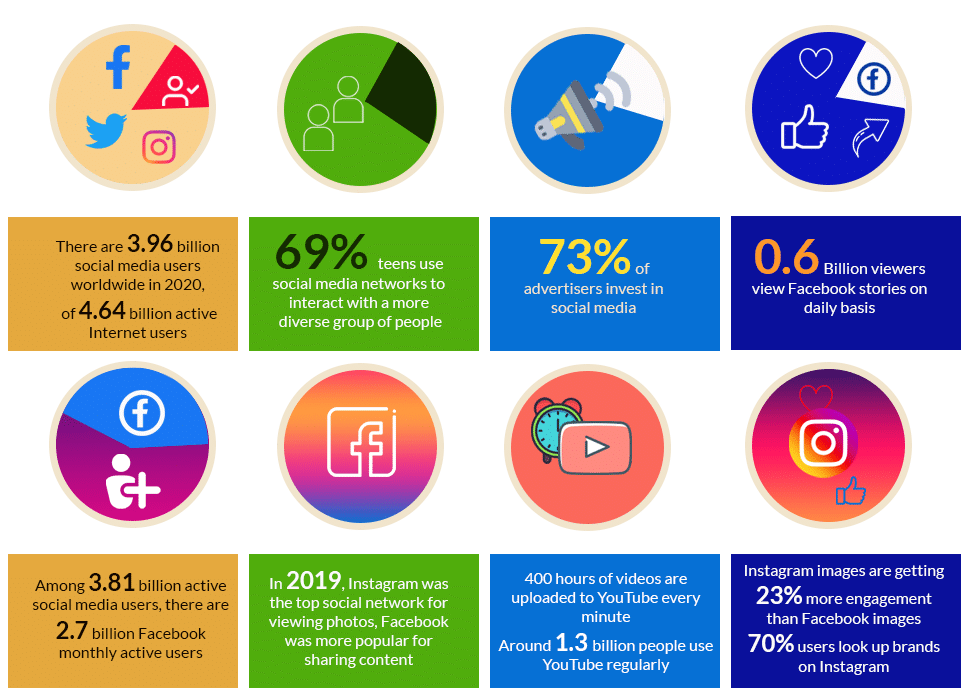 Facebook
With the growing number of active users, this platform has witnessed huge growth and popularity since it starts. With a business Facebook Page, you can easily get connected with existing and prospective customers and improve your brand awareness.
Through interesting and informative posts, you can make users know who you are, what you do, and why they should choose your firm over others.
Setup a Facebook page for your business
Set achievable goals for your brand
Develop a content calendar
Highlight new offers on your products
Post informative content regularly
Choose the right metrics to improve audience engagement
Respond to messages
Create successful Facebook ads
Facebook competitor analysis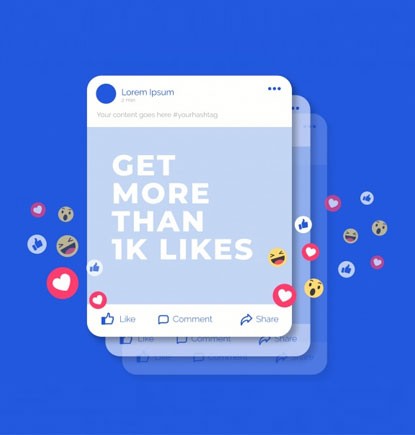 Twitter
Consumers are often using their Twitter account to share and find content, where everything is at everyone's fingertips – real-time information, news, up-to-date events, or any personal events. Businesses can live-tweet or share relevant content but simply filling out your profile, promotional tweets and messages can be boring. Spice up your tweets with value-added headline variations.
Keep your tweets spam-free and be helpful to followers
Schedule and tweet at the right time when your audience is most active through freely given data
Respond to your community as quickly as possible
Avoid sending automated Direct Messages
Use #hashtags to expose yourself to a larger audience
Retweet to boost your community member's content
Use tools with built-in analytics to track clicks of your content
and lastly, Consider Twitter cards that include templates for articles, products, and photo galleries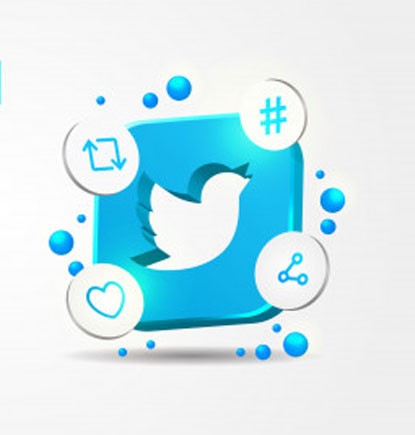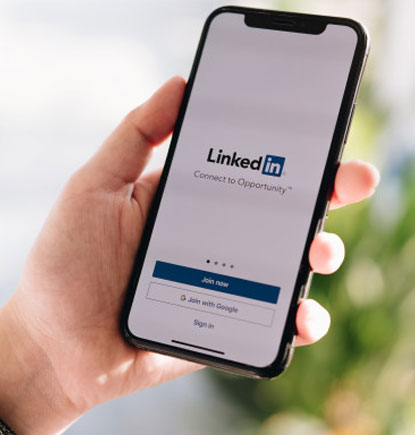 LinkedIn
With personal profiles and business pages, LinkedIn is a powerful tool for professionals, business owners, and social media marketers. Manage both your personal profile and business page through LinkedIn to establish additional credibility for your business. Moreover, paid advertising is an important part of any business's LinkedIn marketing strategy. Its intro section allows business providers to highlight their services. Enabling you to successfully market your profile for potential customers to reach you. Here's a brief overview of maximizing LinkedIn for your business:
Open a business LinkedIn account
Provide a good professional summary
Set your business info page
Fill the skills section with what you are best at
Add some accomplishments to your profile
List the specific services you offer
Develop an effective LinkedIn content strategy
Use hashtags to get more impressions on your content
Ask for recommendations from your customers
Consider advertising to promote business
Use Lead Ads to build new leads
Basics to Successful Social Media Marketing
Evaluate your goals
Choose the right network
Write up interesting content
Post relevant images/videos
Maintain a content or publishing calendar
Build a relationship with your customers
Monitor and listen to social conversations
Social media advertising provides the opportunity to connect with your potential customers. Benefit from the power of social media for your business and see the wonders it can make when executed in an authentic manner.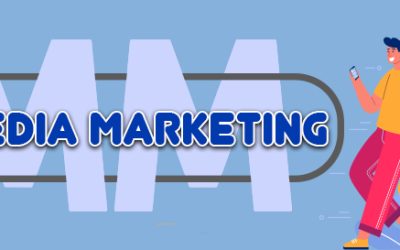 Social media is a great tool for restaurants to reach out to new and existing customers. Social platforms also allow restaurants to target specific audiences based on location, interests, and demographics. Social media marketing strategies also provide an affordable...