Responsive Web Design Services
Responsive web design services are essential for a healthcare website since websites these days need to load well on all platforms, and not just on the laptop or desktop. That's even more relevant for important topics such as "healthcare" or more specified search terms that are often searched from a mobile phone. A significant percentage of web searches now come from mobile platforms. But you can't ignore the desktop user as well.
So Many Screen Sizes and Resolutions
Check out these standard screen resolutions for desktop, laptop, tablet and smartphone:
| | |
| --- | --- |
| Desktop & laptop | 1366 x 768 pixels, 1024 x 768 pixels, 1280 x 800 pixels |
| Tablet | 1280 x 800 pixels, 1024 x 600 pixels, 1024 x 768 pixels |
| Smartphone | 1440 x 2560 pixels (QHD – full HD), 1920 x 1080 pixels (full HD), 2048 x 1536 pixels (2K), 4096 x 2160 pixels (4K), 1280 x 720 pixels |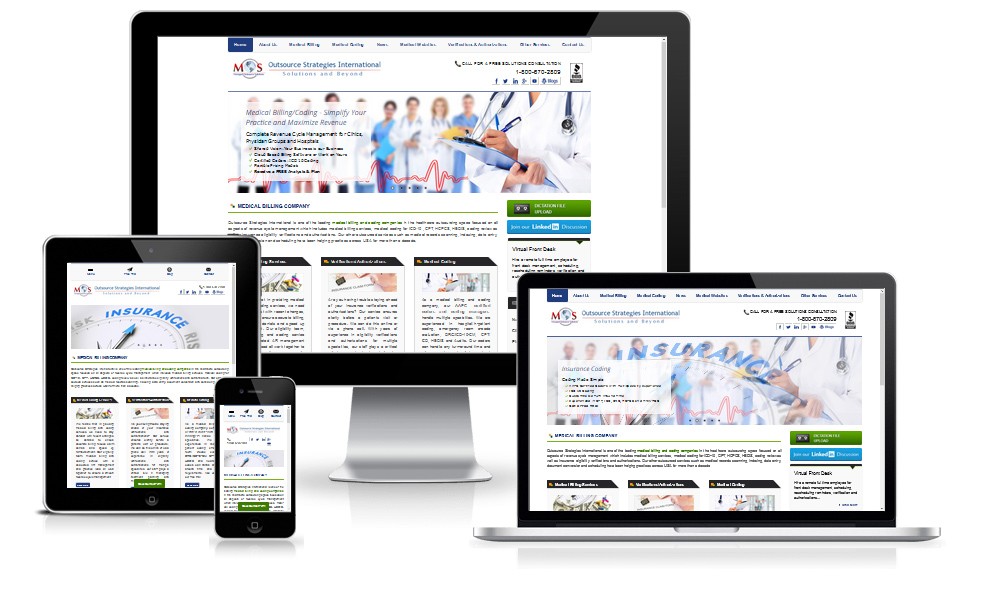 These varying screen sizes and resolutions make our responsive web design services absolutely essential for your healthcare website.
Why You need Mobile Responsive Web Design
If your website is tailored only to certain screen sizes and offers a not-so-good user experience on other devices, users won't be using the site the way you want them to. It would be harder to make them stay on your website, let alone get them to perform the calls to action. Websites that do not load well in mobile devices also suffer in the search rankings. That's where mobile responsive web design helps.
MedResponsive, offering comprehensive web design solutions in Long Island for hospitals, physician clinics, plastic surgeons, DME companies and other medical businesses, can provide a responsive design for your website to ensure it loads well on all these devices and resolutions.
Call us at (800) 941-5527!
Optimized Web Experience with Responsive Design
With our mobile responsive web design, you can give users an optimized website experience. Be it a tablet, mobile, desktop or laptop, the website adjusts to it keeping the same basic design but with flexible content, flexible images and fluid grid.
The MedResponsive Advantage
Based in Long Island and covering NYC, MedResponsive's responsive web design services have great potential and are flexible enough to incorporate:
User-friendly tile design that's easy to touch
Useful EMR integration
Interactive click-to-call interface
Google maps
Patient portal
Resourceful online appointment capability
Integration with social networks
Accessible location addresses
At our responsive web design company in Long Island, NY our experienced web designers and content staff design and develop just the kind of website your practice or medical equipment company needs. Our customization capabilities ensure that your specific needs are met. As we design and develop a great website for you, we ensure that we make room for future modifications.
Get in touch with us to learn more about our responsive web design and mobile SEO services. Call us at (800) 941-5527!