SaaS Application Development
Address your customer requirements with reliable SaaS application development services.
Software as a service has greatly impacted the IT sector, due to its remote connectivity and management capabilities. More and more organizations are shifting their business applications to the cloud and adopting subscription-based services.
MedResponsive's comprehensive software development services can provide you dedicated SaaS and web-based software solutions, right from the planning and design stage to execution.
Our SaaS application development solutions deploy multi-tenant architecture to –
maximize monetization at lesser costs
make updates as easy as possible
We have a team of SaaS development experts who can help you develop SaaS applications for your business. We have worked with 100+ startups and enterprises and helped them raise millions of dollars by producing SaaS products. We deliver scalable SaaS solutions with optimized UI/UX design.
Experience the advantages of our customized SaaS development.
Get in touch with us at (800) 941-5527
Horizontal SaaS
This software is common to various industries, but is focused on a particular category of action such as sales, marketing, HR, etc.
Vertical SaaS
This software handles the needs of a particular industry – industry-specific tools with features catering to the particular industry.
Multitenant Architecture
SaaS solutions primarily follow the multitenant architecture by which a single application version and configuration for the operating system and network is applied for all customers. This can be made to support horizontal scaling by installing the application on multiple machines. We also provide a pre-release beta version for you to test the product. But we don't restrict ourselves to the norm, and adopt new technologies and architecture such as virtualization to ensure cost-effective and efficient management of software.
Cloud Platforms Offering SaaS Development
Our team of engineers and developers excel at building secure and scalable solutions that suits individual business capacities and requirements. As a SaaS application development company, we provide services for various industries including:
Governmental organizations
Multinational corporations
Small & mid-sized businesses
Our 5-step SaaS Application Development Process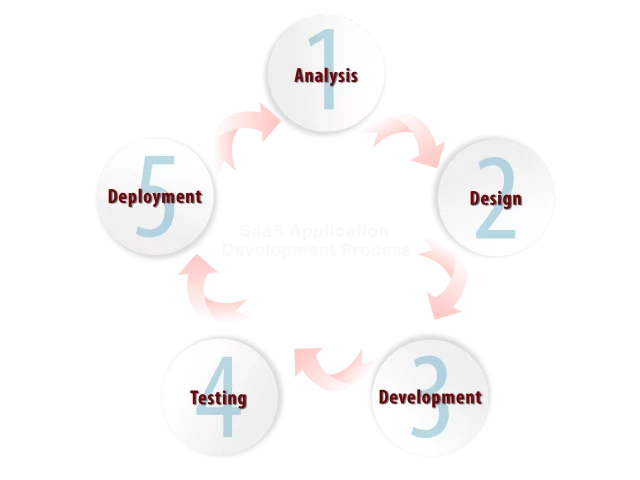 Why Choose MedResponsive ?
We develop SaaS applications that ideally suityour custom requirements
We are up-to-date with the latest development trends
We are experienced in handling mid- and large-scale SaaS projects
We provide round-the-clock technical support
Our customized SaaS applications can help businesses get online, work faster, improve their customer access and increase their flexibility. We leverage the best of cloud infrastructure to ensure innovative solutions.
Take your cloud and SaaS application expertise to the next level. Get in touch with us at (800) 941-5527 or email us to get to know more about our SaaS application development services.
What Is Web-based / SAAS Software Development?
Everyone is talking about SaaS. What is SaaS?
SaaS refers to software as a service. The software can be readily used by your customers through a web browser or a mobile application on the basis of a subscription. Customers don't really need to be worried about configuration or installation, since the software providers take care of them.
What end-to-end SaaS development entails
The SaaS software model involves the service provider hosting the application without the customer needing to manage it. It helps businesses take care of their customer needs by hosting applications without their customers having to use their servers to host. What a SaaS development company does is build these SaaS applications for their customers. The applications will be provided through the Internet to customers. Such applications generally deal with useful, day-to-day functions that contribute to improving the performance of customer organizations.
Do I need SaaS ?
SaaS is essential if you need scalable solutions to improve business performance and streamline your business. The most popular SaaS solutions are customer relationship management (CRM), content management system (CMS), enterprise resource planning (ERP), sales, marketing, eCommerce, and project management software. Off-the-shelf solutions may not always provide you with what you need. Besides, offering SaaS solutions to your customers can help improve your profile. Flexible subscription models make SaaS cost-effective alternatives to on-premise installed software. It's therefore important to offer SaaS to your customers, because its convenience is something your customers will truly appreciate.
According to Fortune Business Insights, the global SaaS market was valued at USD 215.10 billion in 2021. This market is expected to grow from 251.17 billion in 2022 to USD 883.34 billion by 2029, at a CAGR of 19.7% during the forecast period.You don't want to miss out on the demand, and must ensure that you reach out to your target audience.
Where is my data stored ?
With SaaS applications, data is stored in the cloud. In fact, SaaS is a cloud application. But the data is secured to ensure confidentiality and, with our service level agreements, your company owns the data and can retrieve it and back it up whenever needed. We have contingencies in place to ensure that you always have access to your data.
How customizable is SaaS software ?
SaaS software is really flexible and can be modified according to the specific needs of businesses. The user interface, data fields and other aspects can be modified. The personal workspace can also be modified, while various features can be activated or deactivated.
How dependent is SaaS on the cloud ?
The cloud platform is everything for SaaS applications. The cloud is the medium of delivering the application. Without physical infrastructure, the cloud provides amazing computing capabilities that enable the SaaS model to be a reality. The collection of servers and databases that makes up the cloud, enables applications to harness the combined power they offer. The cloud makes SaaS applications less expensive and faster than on-premise software solutions.