Offshore Outsourcing Software Development Company
Looking to hire a team of software developers for your project?
Why not consider offshore outsourcing?
Offshore software development refers to hiring a third-party service provider or remote workers to build your software outside your native country. To create a software product – app or website without flaws requires professional services from the best development team. You can get a cost-efficient, easily scalable solution by outsourcing tasks offshore.
With vast industry experience and expertise in advanced software development methodologies, MedResponsive provides offshore outsourcing software development services to ensure outstanding, consistent results for our valued clients.
As a leading offshore outsourcing software development company, we help you find the right team to perform your app development tasks. Our team uses standard approaches to software development and makes sure they stay up-to-date.
We provide the services of a talented pool of software developers, who are experts in diverse platforms – iOS(iPhone/iPad), PHP, .NET, Open Source CMS and HTML.
Hire a dedicated team of developers – 3D model artist, motion graphic designer, UX/UI designer, skilled designer, QA engineer, and software developer.
Instead of hiring a new person, if you don't want a full-fledged team, hire someone part-time until you need them.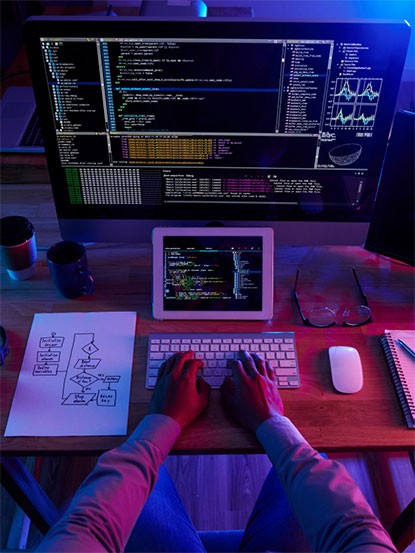 Ready to take your software development to the next level?
Don't miss out on this opportunity for excellence. Contact us at (800) 941-5527!
Get support for your software development endeavors by partnering with MedResponsive. With a commitment to excellence and a passion for innovation, we're here to help you achieve your project's goals. You deserve the best software for your business – let's help you with customized software development solutions!
Offshore Software Development Outsourcing – Pros and Cons
Greater flexibility
Less operational and administrative costs
Reduced development costs
Easy team scaling
Deep industry expertise
Access to new talents world-wide
Save time on hiring and training new employees
No worries about office space, recruiting and equipment
No geographic limitations
Poor communication due to time zone differences
Cultural differences
We can provide the right remote work support!
We serve as your offshore outsourcing software development partner. Our offshore software development company will take care of all the activities related to development and maintenance – building, implementation, testing, and support of the application.




No worries about time zone differences, cultural differences or price and quality ratio
Why Consider Our Offshore Software Development Outsourcing Services?
Reliable technology expertise
Transparent project management
Standard development Practices
Considering offshore software development? Get your work done remotely, with maximum perfection!
We can help you hire an expert DevOps team!
Contact us at (800) 941-5527! Discuss your project with us.
What is software development offshore outsourcing?
Offshore outsourcing of software development is getting development done by a third-party provider or a remote team at another location.
What offshore software development services do MOS offer?
We can assist you in hiring a development team to support your business with custom software development, web development, e-business apps, product design and development, testing, maintenance and support.
Will there be any additional charges for hiring remote resources with MOS?
No, there are no hidden/additional costs for hiring dedicated resources.
Is there a Project Manager to supervise the project?
Once a team of developers are hired, each client will be assigned a Project Management executive, who acts as a single point of contact for regular communication.
What are your development costs?
At MOS, our development costs completely depend on the technology, number of remote resources and the time frame of the project.
Can MOS sign an NDA (Non-disclosure Agreement) with me before I signup?
Sure. All our business transactions are transparent and wesign an NDA (Non-disclosure Agreement) and SLA (Service Level Agreement) with our client. We make sure that your project-related information is safe.
Can you provide services of remote developers for long term?
Yes, we can. We deploy dedicated developer(s) on the project for long term or short term depending on your requirements.
How to contact MOS to outsource my project?
It's easy! Call us at (800) 941-5527 or fill our Contact Us